Hello my lovely CC & WooJung shippers!
I understand how much you all miss the ever so famous WooJung couple, so i've been diligently working on my fanfic for the two.
This is actually a mature themed fanfic which sets a completely different view of WooJung. Now, i'm not saying that Eunjung is an extremely vulnerable girl, or that Jangwoo is a total douche, but given the roles and scenarios in this fanfic, I did change them up a bit just to fit the story line.
It has a pretty dark theme, however I can guarantee you that the end will be worth it all!
After this fanfic is completed, I do plan to continue with writing more WooJung-based stories. So people, please continue to share your thoughts on my story, offer any ideas for future works, or just introduce yourself to me! I'd love to meet some more WooJung lovers <3
Anyways, here I present to you, the forewords to 'My Darling.'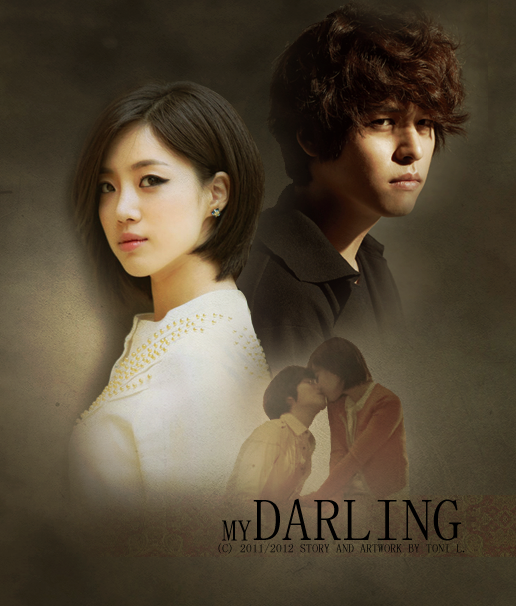 ***
She cried as she stared into the mirror.
A heavy hand over her stomach, she bit her lips and shook her head.
Soon, no one would ever be able to deny the growing hill, the obvious curve of her stomach.
Soon, she would be unable to hide what has been growing inside of her.
Her thin frame expanded greatly as a small mystery existed within her;
a mystery waiting to be given the gift of life.
Tears spilled down her porcelain skin.
Her face scrunched together in agony as she found it harder to breathe.
Between short breaths she rested her palms on the cherry wood vanity for support.
Her silent whimpers began to echo, as her muffled cries were turned into heavy tears.
Eunjung sighed as she weakly regained her composure, wiping the crystal like tears that had dripped from each eye. She exited her cold and lonely bedroom with a baggy sweatshirt in her arm.
She knew that this wouldn't have happened if he hadn't come home that night.
*******************************************************************************
CHAPTER 1 
There was once upon a time, when their love became an epitome of perfection.
A time when laughter flooded every room they entered.
A time where neighbors had to knock on their doors just so they would quiet down.
A time where their sofa was fit for Jangwoo resting on Eunjung's lap as she stayed up to read a novel.
A time where Jangwoo would quietly serenade his princess before she fell asleep.
A time where soft whispers escaped from Jangwoo's lips every time a kiss became passionate.
A time when making love was a routine.
There had been a time when darling was no foreign word to Eunjung's ears.
In fact, there had once been a time when the two lived happily as a married couple.
But that short fairy tale of theirs had come to an end.
Because good things always came to an end.
Now consumed by his successful career, Jangwoo was never home.
Yeobeo! I'm stuck at the set. I'll be home a bit later than usual. Go ahead and eat dinner without me. I'm sorry darling, I love you.
His usual candy coated conversations with her slowly began to melt into a dark pool of bitterness.
Eunjung-ah. I won't be coming home tonight. Don't wait up for me.
And so the once sweet marriage that brought envy to the eyes of others was slowly nearing its end.
Eunjung would spend the rest of her nights curled up in a sea of heavy blankets, crying herself to sleep every night.
She would blankly stare into her cell phone screen, contemplating on whether or not to say hello.
He's probably tired. I shouldn't bother him.
She sighed and placed her phone on the creamy white night stand that stood to her left.
Jangwoo had spent a majority of their newly wed life overseas, filming short snippets of whatever he could. Grabbing every offer he got, frequently appearing in various dramas, movies, and music videos. He did all he could to work his way up.
It was Jangwoo's passion to pursue a career on television. It was also his dream to be able to provide for his future family. He had wanted to build a firm foundation of both reputation and financial security. He had wanted to proudly carry on his family's name.
Jangwoo only wanted the best, not realizing that his innocent wish would affect the one he had loved the most.
He knew he was hurting her. But he continued to ignore Eunjung's silent cries. He believed that pain and struggle was temporary, and that happiness would prevail.
There's a rainbow always after the rain.
He would remind himself.
Jangwoo plopped himself onto a cushioned high chair as his stylist approached him with a powder compact in one hand, and a clean make up sponge in the other.
Jangwoo gaped into the large mirror in front of him.
He sighed as his attention focused on his blackberry that was neatly placed onto the makeup desk.
"Hyomin-sshi." Jangwoo croaked. He raised an eyebrow and cleared his throat.
"Ah.. What is it, Oppa?" Hyomin spoke as she gently dabbed the powdered sponge against Jangwoo's forehead.
"Does Fu Xinbo ever call to check up on-" Jangwoo was cut off by the sudden vibration of Hyomin's loud and upbeat ring tone.
Hyomin jumped as she quickly set the makeup sponge on the desk. She reached into her pocked at pulled out her phone.
Jangwoo noticed the way her eyes lit up as soon as she looked into her cell phone screen.
Hyomin looked down at Jangwoo and quickly mouthed a 'sorry' before walking away to take a quick phone call.
"Hey honey. I miss you!" He heard her voice disappear into the distance.
Jangwoo grabbed his blackberry from the desk and slouched into his chair. He peered into his phone screen and opened a quick message under Eunjung's name. His mind paused as his fingers lightly traced the tiny keypad. Spelling out 'hello', he shook his head and slid his phone into his pocket.
She's probably tired. I shouldn't bother her.
***
Thank you for reading~
If you are interested in the rest of the story, please check out My Darling @
http://www.asianfanfics.com/story/view/123786/my-darling-hameunjung-korean-lovestory-tara-wgm-leejangwoo-woojung