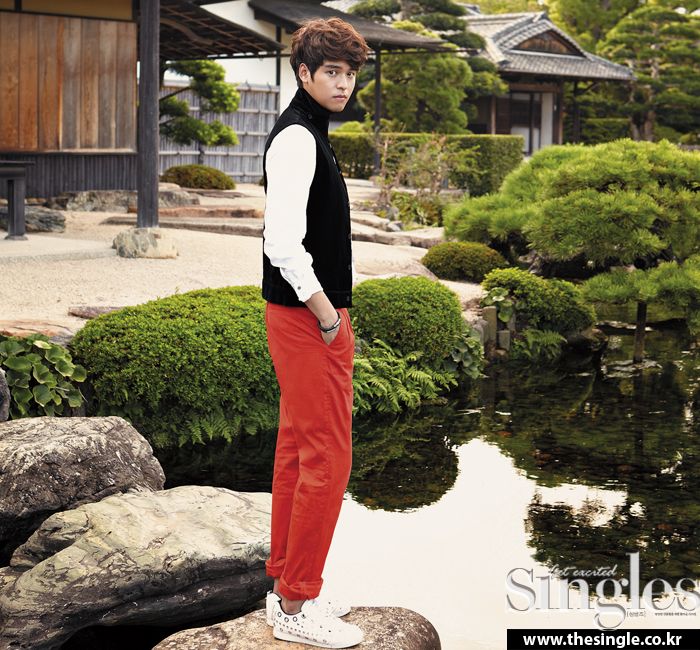 Source: Singles (Korean)
Kor-Chi Trans: Shapley水の滢  http://tieba.baidu.com/p/1841876702
Chi – Eng Trans: Kola for woojungislove.com
Please, take out with FULL credits, and don't forget to thank these great translators!
Translor's Note:please don't overanalyze the wording (: some things are just changed for translation purposes.
- Lee Jang Woo's Daybreak -
Q: After "I Do, I Do" ends, there is a period of rest right?
A: I want to take a trip around Korea and drive a 10 year old off-road vehicle. Despite the fact that it is used as just a military vehicle now, one vehicle is worth 2,000,000 won. The back is also designed to be a storage space for goods. It is filled with camping items inside. However because my schedule does not allow it, I have not been able to go. In the future I want to have a traveling book and after every trip I can put the pictures together. I would also write entries whenever I go on a trip.
Q: Oh? Do you like writing?
A: The profession of acting has a deep connection with writing. Reading scripts, imagining characters, and bring them to life. Even though the script is more colloquial, but to bring the words to life I have the thought that "I have to learn more things". Because of this, I work hard to read books. Ah, but what I read are martial arts novels. There is probably no martial arts novel I haven't read, even the bookstore ahjusshi asks me (if there are any I haven't read yet). At most, I would read ten novels in a day.
Q: Which do you most highly esteem?
A: "Dark Story (?)" ("墨香") is very interesting. It was because of this story that I started reading martial arts novels. Martial arts stories are really easy to understand. Eh! Ah! Pah! These few words can fill up an entire page by themselves. You have to use your imagination along with the dialogue. After reading martial arts stories, I have more interest in novels and poetry.
Q: We have to talk about "I Do, I Do". It seems like you have some thoughts since it is your first time acting a main role.
A: A lot of people once they hear that they are going to play the main character, their shoulders become strong (I'm assuming this means that they are proud?), however, I was the exact opposite because I had to return to the feeling I had when I first started. The opposite role from me was Kim Sun Ah, who has a lot of works that people are jealous of. But, the greater the expectation, the easier it is to fall apart. "Three Brothers", "Smile Donghae" had ratings of over 40%, "Glory Jane" also had a rating of at least 15%. Being used to those ratings, when "I Do, I Do" only reached a 9% rating, I felt very tired. I felt as if it was because of me that the rating was so low, that it was because I did not successfully portray my character. So I felt very tired and it took me a long time to regain my energy.
Q: How did you regain your energy?
A: One day after drinking a lot of alcohol, I returned home and by chance saw a note. That was a diary that what I wrote in my first year of college. Back then I worked harder than anyone else. Being immersed in my current situation, I forgot my old self. Back then I thought "in the future I will film over 100 works" but now at best it is three or four. As a result I thought "why is it like this?" I went to search for that feeling I had before and to show my kind of acting, the kind that other people cannot act, to do well in filming, and to earn a lot of money. Sun Ah noona also gave me a lot of help.
Q: In "I Do, I Do" as a newcomer, often think about dating (strangely worded sentence). In reality, have you had a noona/dongseng (older woman younger man) relationship before?
A: Until now, I have never tried dating someone younger than me. Even now, I think that dating someone older is good. My interest seems to be more in that direction. If I date someone younger, I will go frequently to places like clubs, but instead I enjoy camping and fishing more. Even though everyone likes different things, if I brought someone young to camp and fish it seems like it wouldn't match.
Q: People who really understand the joy of camping and fishing are usually over 30 years old. When are you most called "little old man"?
A: When I go hiking and I say "wow, this is great" or when we are looking at views/landscape and I say "wow this is so beautiful". My friends don't understand what is so beautiful. When I am filming dramas in Seoul, I smell smog all day. When I was small, I often went to the mountains to listen to frogs and crickets and I like those sorts of things. Because I miss that kind of life, I often go to mountains or to the countryside, but my friends don't really like these things.
Q: The ends of your eyes tend to droop down, like a puppy. You've never thought about changing your image? Did you originally want to have a puppy image?
A: My personality is just very happy-go-lucky. Even though I'm not sure what a puppy dog image is, but I have always looked like this. Since little I've been told by elders that I look very docile and I am pretty happy with this.
Q: In real life how is it if you date?
A: I'm not the type of person to wait on other people. Actors are often under the scrutiny of the public. It seems like I'm not able to get used to this. I will still bring out friends or girlfriends to certain places. Or if they want me to take them somewhere, I would also be very happy to do so.
Q: Which character is most similar to the real you from "Smile, Donghae", "Glory Jane", and "I Do, I Do"?
A: The most similar would be from "I Do, I Do". When I first saw the script, I thought that this character was just for me. The image of being moved emotionally while working and happily hanging out with friends is similar to my real personality.
Q: Do you remember the first moment that you started acting?
A: The first time I acted was junior high school in afterschool. On that day there were many people in the audience and I cried then. During junior high school I always tried to be very manly, very cool, but because I cried in front of many people my pride was hurt. From then on, I had the idea that "I must succeed in acting at least once". But after trying out acting more times, I discovered its charm.
Q: Have you ever had the thought "being an actor is really great"?
A: Right now I am very happy. Not because the life of an actor is able to be enjoyed by everyone else. Being an actor may look very decorated but there are also a lot of very fun things that happen.
Q: "Looks very decorated" this sort of phrase is very honest. It feels like it's not very good.
A: But it is true that from other peoples' point of views it seems very decorated right?
Q: But because it is decorated people think that being an actor is great. Saying it in this way doesn't seem very good.
A: Looking at it from that way it also looks pretty good. Of course, we don't have to say it that way, but in reality people think of it that way. To be able to experience many things such as being able to sit in cars that you would never be able to touch in real life or being able to live in a treehouse or a house that is three stories high is all very good. So even if it was just something set by the script, being able to experience all these things is also very fun.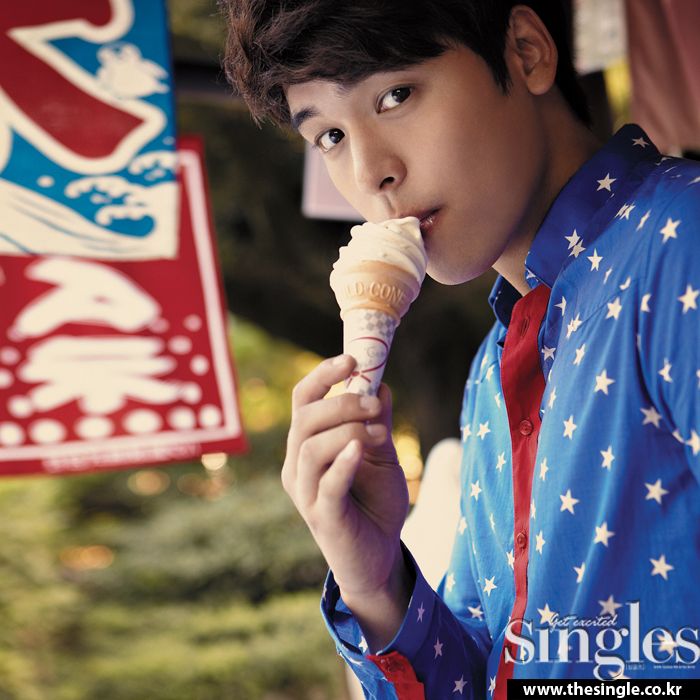 Q: Who stimulates you to be an actor?
A: I think it is my parents who stimulate me. (a few sentences after that I am a bit confused about but the gist of it is that his mother understands that being an actor is difficult and she worries for his health and is proud of him)

Q: What kind of student were you in school?
A: I didn't want to learn. During class I would read martial arts novels. After exercising I would wear my sweaty uniform and go to sleep. The second morning I would just brush my teeth and go to class.
Q: I heard a rumor that you are planning to debut as a singer. Do you have any plans?
A: Right now there is no competition between being a singer or an actor. It is impossible to separate music and acting. In dramas and movies, if there is no music, there is no movie. If the songs I sing can match my acting then that would be great. Instead of progressing as a singer, I would rather hope to participate in the OST for my dramas.
Q: I also heard a rumor that "We Got Married" ended, you must have a lot of mixed feelings right?
A: It doesn't feel good. Even though I've already been on this show for a year and a half, no matter what there is always a day that it will end. It was only because of the strike that the end was postponed. But because it was a variety show that involves feelings, when I heard that it was going to end my heart really hurt.
Q: You often get perms, I think that it really suits you. It is similar to what you usually like?
A: If I perm my hair, I don't have to really take care of it so I like it like that. But I'm still far from fashionable. I am the kind of person who wears what I am given to wear and I wear it as long as it is comfortable. Instead of thinking whether or not my clothes are out of style or not, I care more about their use because when I go camping, clothing that is light and warm is the most suitable.
Q: I saw the flowers that you sent to your colleagues, on it you wrote "Hallyu star Lee Jang Woo". Do you really think this way in real life?
A: Actually the company thought of it, but I thought it was really funny so I wrote it. Recently I haven't really been looking like a Hallyu star.
Q: Hallyu stars…are very ambitious right?
A: Yes, because this phrase has been overused. And because of this I was hurt. Earlier I visited Mr. 小原's (don't know who this is) art gallery and a few buildings nearby it and I also wanted to build one. Seeing Mr. Lee Byung-hun's movies made me think what it'd be like if I acted in those movies. I really like Stephen Chow and I want to be a good Hollywood actor like him. It seems like a good thing to be ambitious.
Q: What will your next work be like?
A: Right now I am focusing on the character. I want to act a character who is cool like Hyun Bin in "Secret Garden". Then I'd have to be a rich son again. Our country's cool guys seem to all be rich sons.
Q: Why do you want to act a rich son?
A: Isn't it because then I can act a really cool life? In the future I want to act characters that die or are very sad but I want to wait until I can act those characters without being too emotionally attached and when I can be strong in my acting. Maybe that'll be when I'm 50 years old or older. Right now I want to be more easygoing and act a cool character.
Q: Right now you really want to look cool.
A: That's right! (laughs)