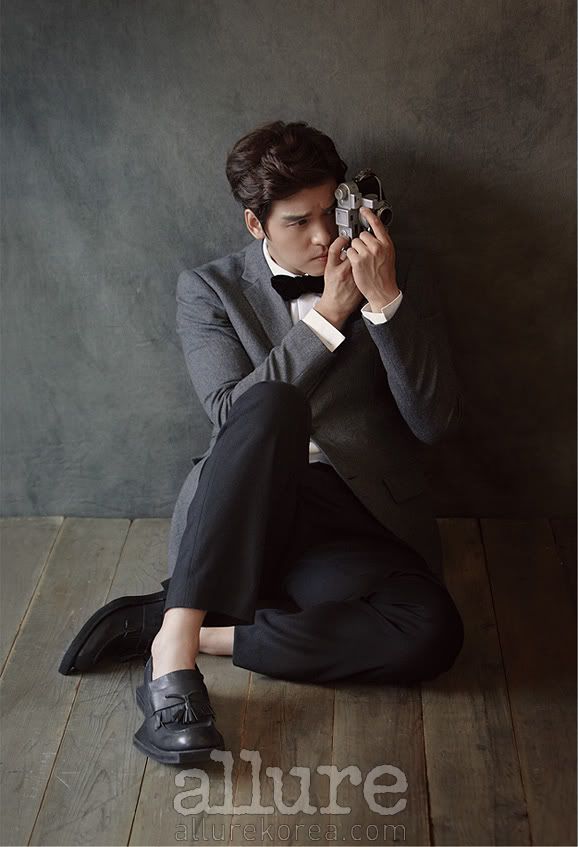 Source: Allure (Korean)
Kor-Chi trans: Shapley水の滢 @ WooJung Baidu
Chi-Eng trans: @catgoh92
- MODERN BOY -
Q: <I DO I DO> has ended. First drama as the lead with the initial excitement and the regrets towards the end, how does this [drama] differs from others?
JW: Honestly, I used to have a high expectation for this drama production. Having to act with Kim Sun Ah, with good script, excellent staff, and of course my popularity will rise and not to mention the good ratings we will have. But [I] started to have breakdown period during around Episode 4 even though I told myself, "What am I thinking right now?" Then I would cheer myself up.
Q: How did you overcome that period of time?
JW: Sun Ah noona gave me a lot of help. The male actors that collaborate with Sun Ah noona all seems to be popular. She is the person that can make her partner to become popular. If being on that position will sure have that kind of desire but she didn't. She thinks more for the production and working staffs. She took care of me a lot.
Q: Seems like during this period you have matured a lot。
JW: My perspective seems to have grown broader. Acting is for life, next time I must have more projects, and this [drama] is only a part of it. I used to be rash but now I know it's because of those feelings of desire .
Q:  I heard that after [I Do I Do] you have received quite a lot of offers. Now, at this age, what kind of role would you like to take up?
JW: Feels like acting characters from <Secret Garden> where Hyun Bin sunbaenim portrays the cool image. It's not because I want to look cool but the character that can make the actor into that. Previously I have acted a few characters that make people feel sick of, so I somehow became like that. I think characters like idol singers seem fun too.
Q: You have starred in <WGM> for quite some time already. As an actor does it worry you?
JW: If I were to say there were no worries, I would be lying. The [drama] viewers will have hard time to see/understand my character in a drama. It might also take away any chance in the new projects after seeing how I behave in <WGM>. However I feel that [WGM] has helped me a lot.
Q: Can you specify what [WGM] has help you with?
JW: Firstly I would say it's a variety show that has made my name well known to the public. It allowed many people to know who actor Lee Jang Woo is. Also I learnt ways of how to act freely in front of the camera. Everytime we have filming, we will have 20 cameras following us. In front of them [cameras], we cook, eat and even kiss. Thanks to them, I have become more comfortable around cameras. I also can know the difference between drama and variety show.
Q: During <WGM> filming, won't you feel the need to fall in love? Or you have something to substitute it?
JW: No, in fact I want to fall in love more. Even this is a virtual [relationship], it felt more like a marriage than dating. After one year together, there were times we grew tired of each other and even quarrel before. Sometimes we just want to take care of each other, and experience the period of being tired of each other. So it felt like I want to have one real relationship before it gets too late [age] and want to get married. Every time when I got home after filming ended, I hate the feeling when I was all alone at home.
Q: Many thinks that "Marriage is a mistake", <WGM> seems to have changed you.
JW: After trying out once, I think I can do well, haha. I want to meet a woman that is suitable for me. I want to marry a woman who won't tie [control] me up and can let me go coolly, also a woman that loves to eat. <– are you guys thinking the same person as me? XD
Q: In <Music Bank> you've become a live music show MC. As an actor it is a different challenge for you, right?
JW: <Music Bank> was a source of my energy during drama filming period. Whenever I go there, I can see many passionate young singers. They stand on the stage and give out all their best. Seeing them performing gives me a lot of encouragement. So whenever I feel tired, seeing them like this, I would tell myself, "I must work hard too."
Q: Isn't it thankful that through learning you can gain a lot of experience ? Recently did you gain any interest in watching any show?
JW: Feels like joining the show <Laws of Jungle> (it's a camping adventure variety show). When we are still alive, when can we go to one corner of the world and have a chance to experience their hardships? If it appears in TV show, if the cuts can be remained as precious memories forever, isn't it good? Unforgettable memories.
Q: Heard that you are a camping maniac. Did you go camping recently? 
JW: After my drama filming ended, I went camping a few times. I even paid monthly rent for a camping site in Young In and put my tent over there.
Q: In what way camping attracts you?
JW: Because I love to sleep in the wild, so I have started camping. I can feel the freshness of the air that we can't experience in the city. Ihen you walk into the woods, no matter how much you drink [alcohol], you can still wake up early the very next day. When you go camping, you can enjoy beautiful scenery. I love to spend my time dazing out without thinking too much.
Q: Everyone who goes camping has a role. Then what is yours?
JW: The meat that I barbecue is really good. Even though any meat tastes good when you go camping, but once people try the meat I barbecued, they say 'Omo omo'. The charcoal place has a very important role. I used many types of charcoal before but I think the hardwood charcoal is the best. The taste of the meat barbecued by using this charcoal is really unforgettable.
Q: There are lots of ways of camping. Which one do you prefer?
JW: I've started camping since the age of 20. It has changed a lot since then. At first I tried motorcar camping, I have gone to every place in the country. Then it was deserted area camping, to the places where cars could not go to. Not in the camping site area but setting up a tent high up in the mountains. At first it's a little dangerous but quite adventurous and scary. What if bears and snakes appear, what should I do? Then it changed to relaxing outdoor camping.
Q: What would you do in spare time if you don't go for camping?
JW: I don't like to stay alone in the house. I will go for a drink instead.
Q: Do you like to drink? [alcohol] 
JW: [I] really like it. Instead of drinking till being drunk, I prefer to enjoy different kinds of alcohol. Sometimes I drink rice wine, sometimes soju and even Japanese wine.
Q: Ah you are really an alcohol lover. Did your optimistic attitude help you in any way during drama filming? 
JW: Being optimistic also has two sides. The good point is "I will do it tomorrow" then I will push everything together. But then problems will start to arise. As an actor, of course I must be a perfectionist, I've never tried once. So until now I am still working hard.
Q: Are you sure that acting is your lifetime career?
JW: Originally I have no desire for this route [acting]. If I am not good with something, I won't feel embarrassed. I would normally say, 'Yeah, it's true that you are better than me. So why don't you do it instead?' But acting is different from this. During middle school, for the sake of acting, I went to the stage but end up crying leaving the stage. It's too scary when there are 40 pairs of eyes staring at me. I couldn't do well and came down crying. The audience was shocked by my actions. Getting my pride hurt, I was really angry. But also this gave me the will to do well in everything I do. Even though [acting] is fun, the more you try to understand it, the harder it becomes. Acting is the only one thing that bewilders me yet admiring it.
Q: What have you done in order to improve your acting skill?
JW: I borrowed three movies to watch. The whole day I would watch how they convey their feelings, how they portray their expressions. I take my friend as an acting partner, trying to imitate those actors especially Choi Min Shik sunbaenim. I even imitate his curly hairstyle in <Old Boy>. Even the owner of the shop say, "Now there is no more movie for you to watch."
Q: Do you have any role model actors that you look up to?
JW: I really like Jung Woo Sung sunbaenim (I love him too >.<) Everytime I see him [acting] I would feel very motivated. His work <Beat>, I have seen it for thousand times already. I even memorized all the words they have said in there. He was only 24 at that time. I always wonder how did he acted that way. I get surprised every time I watch it.
Q: If you really manage to meet him, you must have a talk together. It seems to be a really nice thing to happen.
JW: I have met him before. But because I was too nervous that time, I just stood afar and watched him. After awhile I ran away.
Q: Recently have you faced any problems? 
JW: It has been two weeks since drama filming ended. Right after resting for 3 days, I feel like working again. I want to meet the audience with another project soon. Recently I have watched the rebroadcast of <I Do I Do>, I want to experience back those times when I worked so hard for it. Even when I watch other dramas, I also miss those time working in a studio. The urge to go back to work became even stronger. But instead of rushing to act again, looking out for a good script and story line is also important. So I must be extra careful when I want to choose the next project.
Q: Since the interview has ended, do you feel like drinking? What will be your choice then? 
JW: Do you know a wine called Bizan Clear? It's a Japanese soju. If you mix it together with tonic water, it taste really good. You should try it out one day.
*please, notice that this is Kor-Chi-Eng translation, so there might be some inaccuracy