So, I was debating with myself if I should or should not post some little observations on 'Music Bank' happened on June 29 which was attended by both MC Lee Jang Woo and T-ara's EunJung. It was first non-WGM event for them for a long time (the last one is 'Music Bank in Paris' on February 8th) and we anticipated it with some hope for on-cam interaction. Unfortunately, while we all are sure that they definetely had time to greet each other at the backstage, there was no interactions between them captured by camera. I wasn't sure if I should post those little things I noticed because they are literally too small. But I saw that our friends at baidu actually noticed the same things (HERE and HERE), so well, why not then?
Just a disclaimer: all moments are so-so, and maybe interpreted in rather simplier way – like EunJung's cheerful personality and fanservice. But we're shippers and have a right to be a bit delusional sometimes Anyways, it's up to you to decide. As always sorry for any grammatic/punctuation mistakes. -yuoi-
All videos you can watch HERE
1) Jangwoo presenting T-ara.
MC stage and artists' stages are separated by some kind of wall but if artists are already on the stage while MC is introducing them, there is a chance for them to see each other.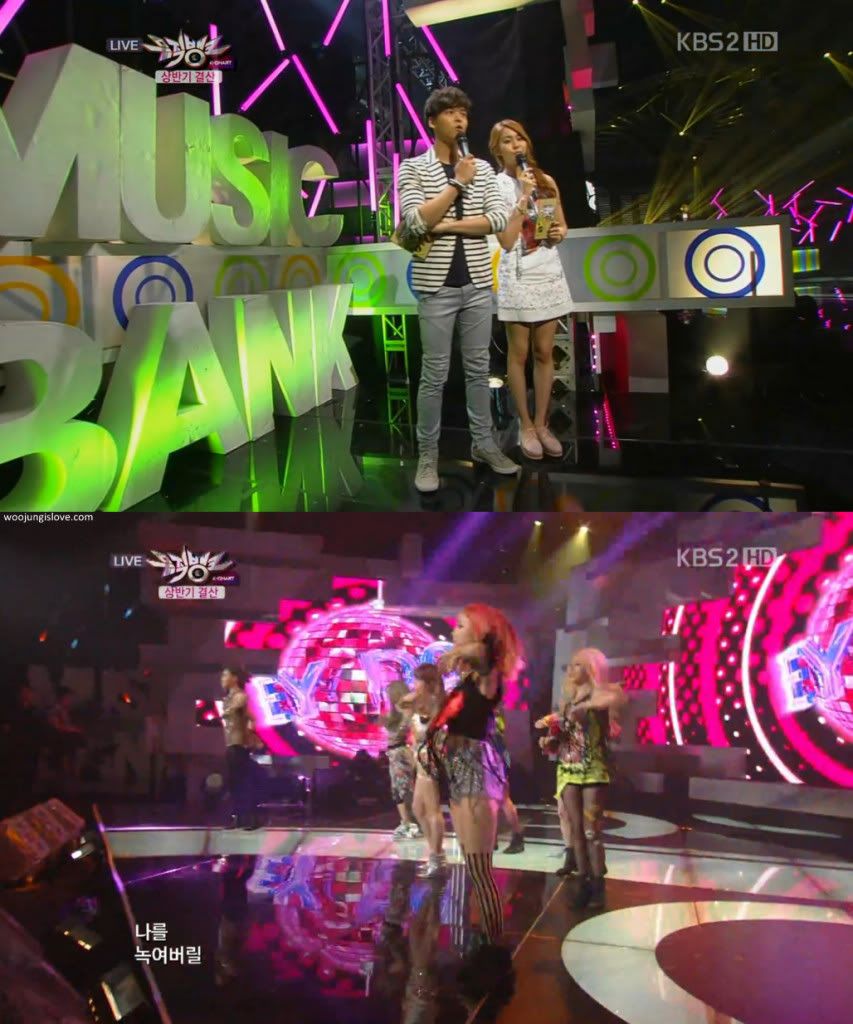 To be fair, Jangwoo often doesn't look at camera: during UEE's parts he tends to look around. But IF T-ara was already on standby while Jangwoo was introducing them I would say that these several glances were for them/EunJung.
And notice Jangwoo's little embarassed laugh after singing 'LoveyDoveyDovey ah-ah-ah'
2) T-ara's performance.
There was nothing really special or worth of mentioning. EunJung was extra cheerful and seemed to be in really really good mood. But during T-ara stage we could see the corner where MCs usually sit. There is a guy in the white jacket on this screenshot, but it's hard to tell if it's Jangwoo's jacket with black stripes or not.

screenshot taken from hamuses @ baidu (how it's such HQ o_O)
3) Ending stage.
You always see how nominants for the K-Chart #1 look somewhere in front of them in tension. Well, that's probably the screen looking at which all, who are on the stage, are able to watch what is airing right now on TV.
If you watch the video, you'll see that the closest to the center was IU when they all just came up on the stage. Jangwoo obviously looks at the screen (~looking for someone?~).
On the next wide shot Eunjung is already in the center peeping out from the others' backs. As soon as she sees that she's on the screen she starts to wave (~to give someone know where she is?~ :D)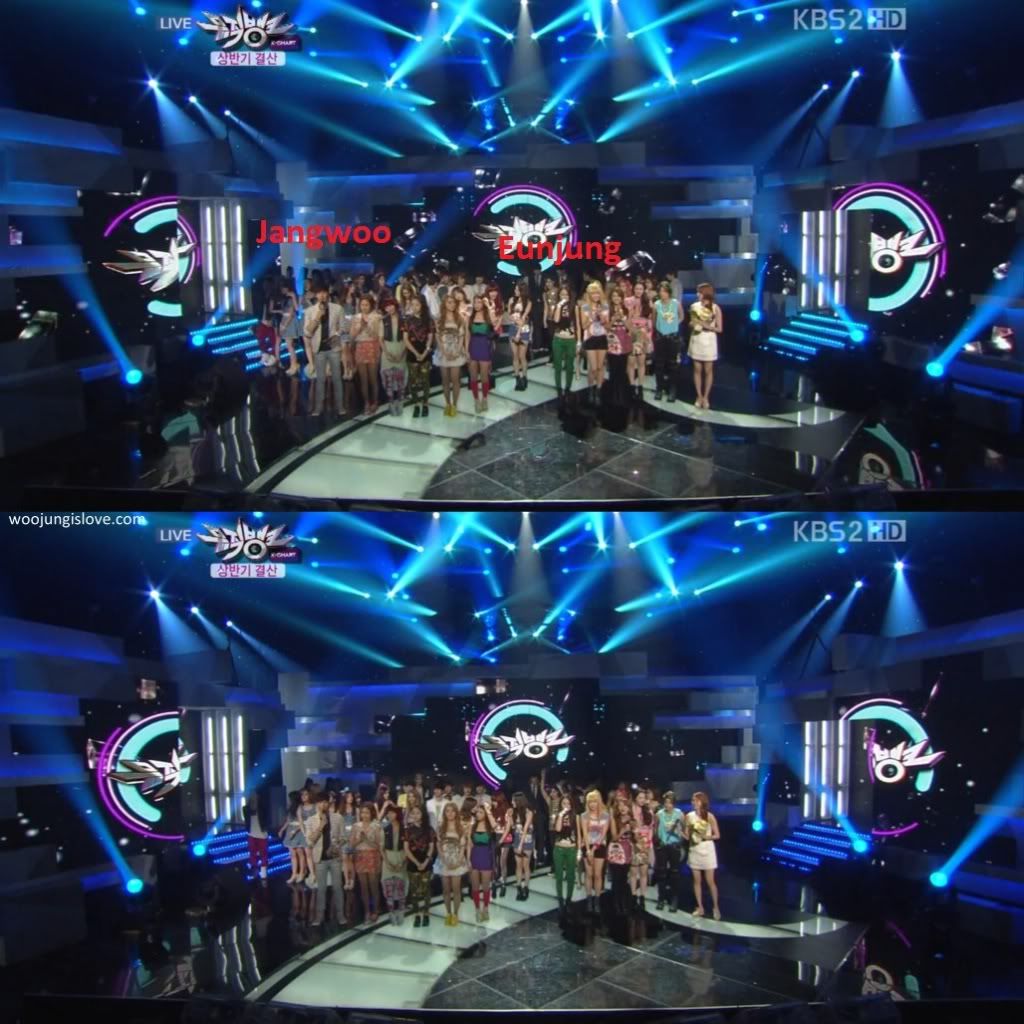 We can say for sure that she's waving not for the audience in the hall. She was displaying any activity only when she saw that she's in shot: here again, both of them in shot, EunJung starts to wave the V-sign while looking at the screen, Jangwoo looks at the screen too and suddenly starts nervously looking around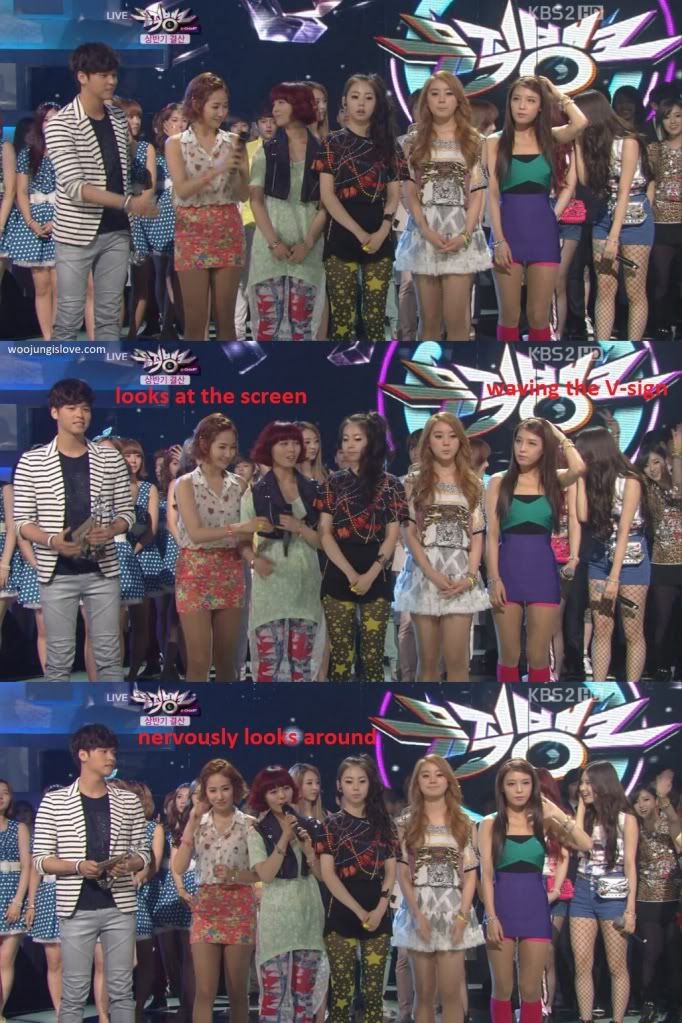 Next wide shot: Jangwoo is diligently doing his job while EunJung is chatting with her numerous friends until she notices that she is actually on camera again.

And starts with V-signs again.
cr: http://honagul.tumblr.com/
I want to notice that those 3 times in 2 minute cut she was in shot, she was doing exactly the same thing: waving/showing V-sign. You decide if it was great fanservice, or pre-planned mission or giving ~someone~ to know where she is on the stage.
f(x) won, and Jangwoo moved to the center to handle an award.  While f(x) were celebrating, Jangwoo shot a short look at the screen and glanced exactly at the direction where EunJung/T-ara were standing.
'Music Bank' ends, Jangwoo turns around and looks at the same direction, then leaves the stage. If you rewatch this moment you'll notice that he was looking there for a fraction of an instant longer. EunJung gives the last glance to Jangwoo's direction as well.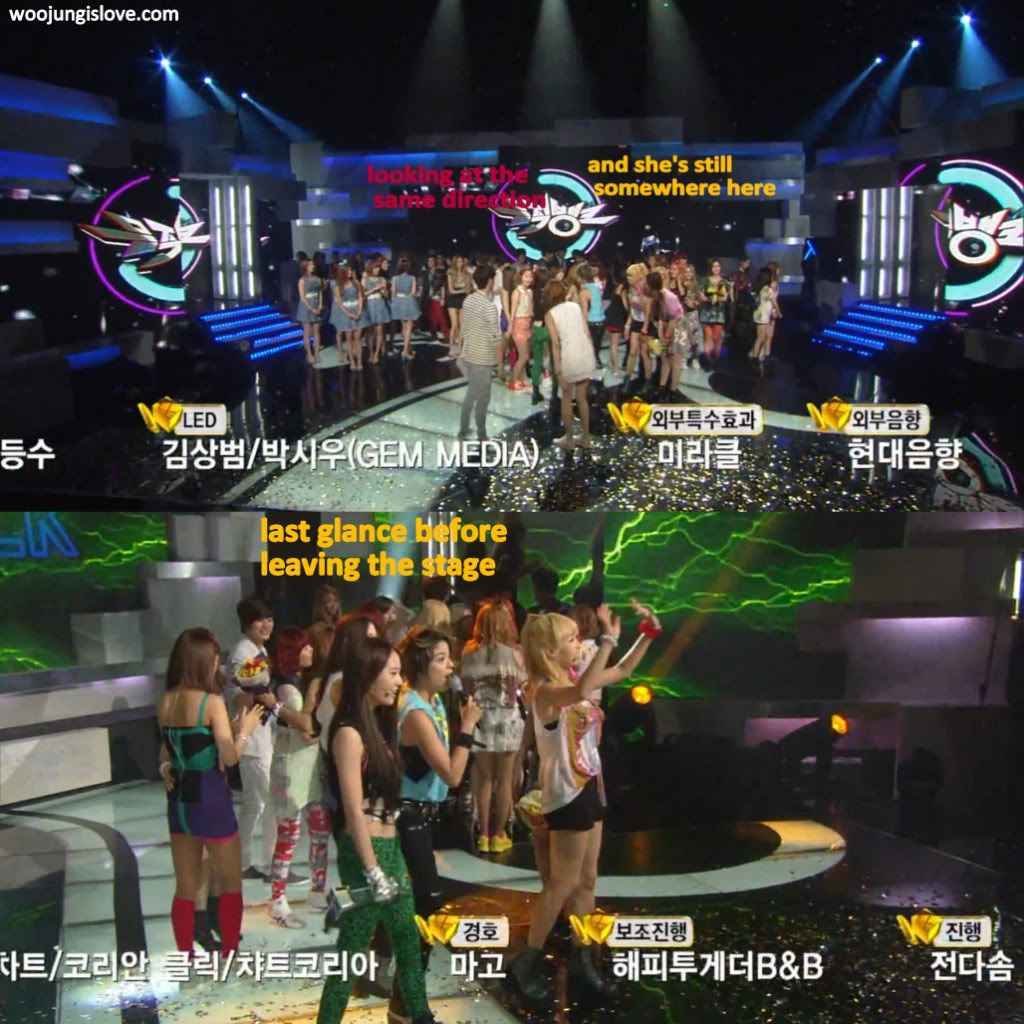 Yeah, that's it. As I said above, it's up to you to decide if it was just fanservice and accidental glances, or something more.

Ah, and remember, that you always can do observation/analysis post as well. Just let us know!