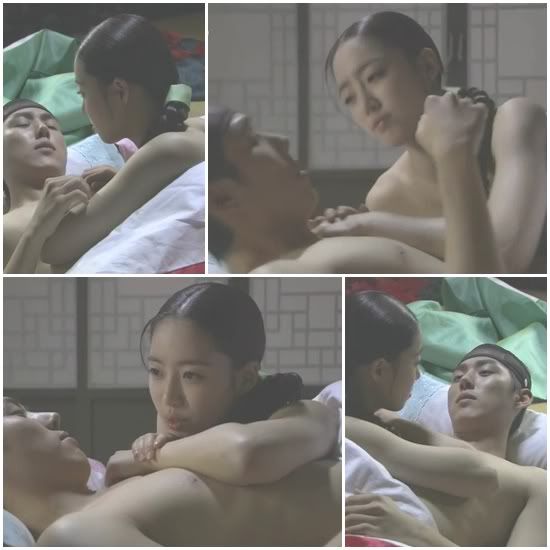 A steamy bed scene between T-ara's Eunjung and her "Queen Insoo" co-star Baek Sung Hyun has been the hot topic amongst netizens lately!
An online community board recently updated with a few screenshots of a bed scene between the two stars on jTBC's weekend drama, "Queen Insoo." The scenes are from the episode broadcast on January 21st. The episode centered around Eunjung confessing her feelings for Baek Sung Hyun. The two resolve their differences amidst tears and share a bed scene to make up for good.
Eunjung is probably the first female idol involved in a bed scene in a drama. Other scenes that surprised viewers (considering that Eunjung's an idol) was one where Eunjung gave birth to her son in pretty explicit details.
Netizens commented, "I'm kind of surprised that an idol can shoot these kinds of scenes," "Well, she was originally an actress," and "What if she gets into a fight with Lee Jang Woo on 'We Got Married'?"
credit: soompi
T-ara's Eun Jung Shoots a Bed Scene
Guess virtual marriage doesn′t mean much when it comes to work!
T-ara's Ham Eun Jung shot a surprising bed scene with her co-star, Baek Sung Hyun for the jTBC drama Queen Insoo, which aired on January 21.
In the scene, Insoo (Ham Eun Jung) confessed her feelings to Do Won-gun (Baek Sung Hyun) and shed tears. Ham was also praised for realistically portraying the scene where Insoo gives birth to a baby. Netizens who saw the picture were quick to react by saying, "It's surprising to make an idol star shoot such a bed scene," "[She can do that because] she started her career in acting", and "She and Lee Jang Woo might fight over this scene in We Got Married."
credit: enewsworld
Eunjung's bed scene in 'Queen Insoo' causes quite a stir
T-ara's Eunjung has been causing quite the stir thanks to her bed scene with actor Baek Sung Hyun.
Due to the Lunar New Year holiday last week, many netizens had missed an episode of 'Queen Insoo'. As such, her bed scene went relatively unnoticed until a set of screencaps hit the Internet under the title, 'Eunjung's Bed Scene'.
The two actors, who portray husband and wife in the drama, are seen conversing and cuddling in a state of undress.
Surprised netizens commented, "Lee Jang Woo is watching", "I'm jealous of Baek Sung Hyun", "This seems a bit early", and "This must be the first bed scene for a member of an idol girl group."
Source: Donga via Nate, Star Today
cr: allkpop