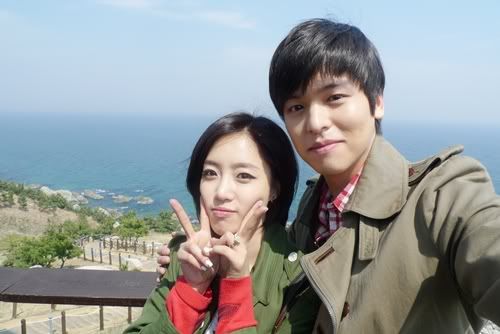 In a recent recording of MBC's "We Got Married", Lee Jang Woo reportedly expressed his anger for the very first time towards his new wife, T-ara's Eunjung.
The two took off on their first trip together to Youngduk, Kyungbook, and on the way, Eunjung brought up her "King Geunchogo" co-star, Supernova's Geonil.
Oblivious to Lee Jang Woo's feelings of jealous and discomfort, she went on to reveal that she's been close friends with him ever since their pre-debut days, and that they even attend the same college together. Upon seeing an affectionate picture the two took together on the drama set, Lee Jang Woo began expressing his annoyance towards her throughout the trip.
Check out what happens on April 23rd!
Source: Sports Chosun via Nate
credit: allkpop
Lee Jangwoo's explosion of jealousy to Supernova's Geonil "Ham Eunjung is mine!"
For the first time since getting married to his virtual wife, T-ara Eunjung, actor Lee Jangwoo has suddenly expressed explosive jealousy.
On the April 23 broadcast of MBC's "We Got Married" (WGM) the Jangwoo-Eunjung couple will go on their first trip together to Kyungbok Youngduk. In prepeartion of the trip, Eunjung pulled an all-nighter the night before preparing lunchboxes, which left a deep impression on Jangwoo.
However, in their downtime, Eunjung briefly talked about her husband for the KBS1 Drama "King Geunchogo," Supernova's Geonil, which made Jangwoo uncomfortable.
On top of that, Eunjung revealed that she had a friendly relationship with Geonil prior to her debut, even having a Senior-Junior relationship from their university. Eunjung also shared a picture of the two together from the filming site, which showed a heartwarming pose, causing Jangwoo to become insecure.
How will Jangwoo deal with the sudden appearance of a rival in Geonil? Watch the broadcast to find out.
***
Source: Nate
Translated by: bokchoi @ Diadem
credit: Tiaradiadem